Dry herb one-hitters are awesome. They're perfect for micro-dosing and for smoking exactly just how much you want to smoke. Since they need to be packed and lit every time, they're great for preventing overindulging ourselves, which also helps keep your tolerance from raising too high.
That's why we've compiled a list of our 10 favorite one-hitters, perfect for traveling, pre-packing, or just getting a taste of your new weed.
Read on and we're sure some of them will become your favorites too.
Best One-Hitter Overall – Grav Labs Glass Silicone Blunt
If you could only live with one of these, this is the one-hitter you want to get. Made in the USA by the pros at Grav Labs, the Glass Silicone Blunt one-hitter is made out of high-grade borosilicate glass, which pulls out to be filled and lit. Then, you can simply roll back the silicone cover, and you'll push the ash out.
The rounded silicone mouthpiece makes it very comfortable to smoke while allowing you to avoid getting some ash into your mouth.
If you want a one-hitter that won't break if you drop it, you can pack anywhere, and will last you for a long, long time, get this one.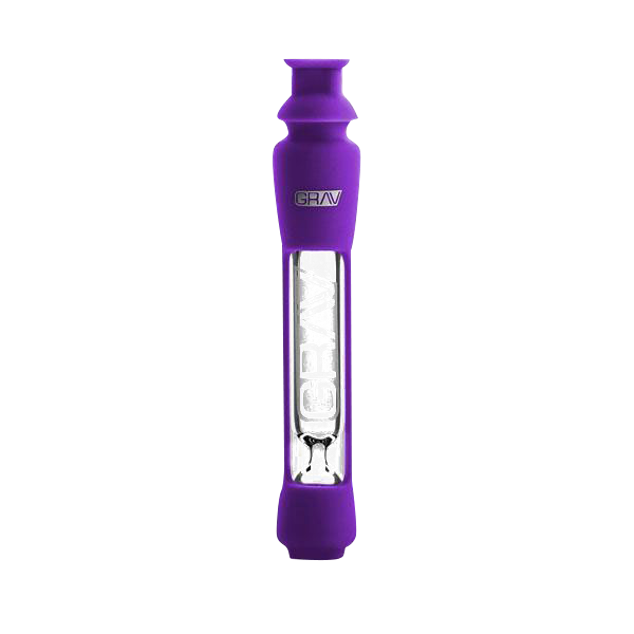 Best Budget One-Hitter – Bio Hazard Glass Bio Stix
Do you just want a high-quality borosilicate glass one-hitter? The Bio Hazard Glass Bio Stix is extremely easy to use and clean, and as small and portable as they get.
You'll have to pinch and load it, but once you have, you won't have any issues keeping the herb inside. They're super affordable, great to buy for a group of people to use or to have in your smoking collection.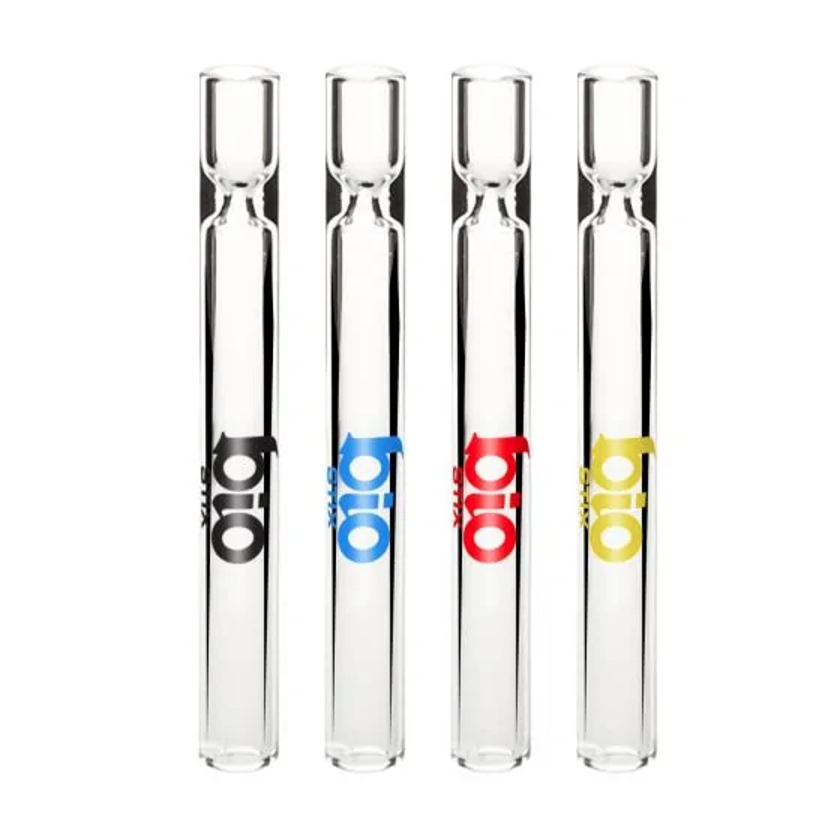 Best One-Hitter for Smoking On-the-Go – The Wand by Jane West
Want to get one hit on the go, but you don't want to carry the bulk of a dugout? The Wand by Jane West is an amazingly stylish option for you.
This one-hitter is kept in a black, discrete case, which also doubles as a container with its bottom stash compartment. Simply dig out the herb, smoke it, clean the one-hitter with the tool attached to the lid, and put it back into its place.
At a bit less than 5 inches long (15 cm), it's barely longer than a glass one-hitter, perfect to put away in your purse, backpack, or pocket.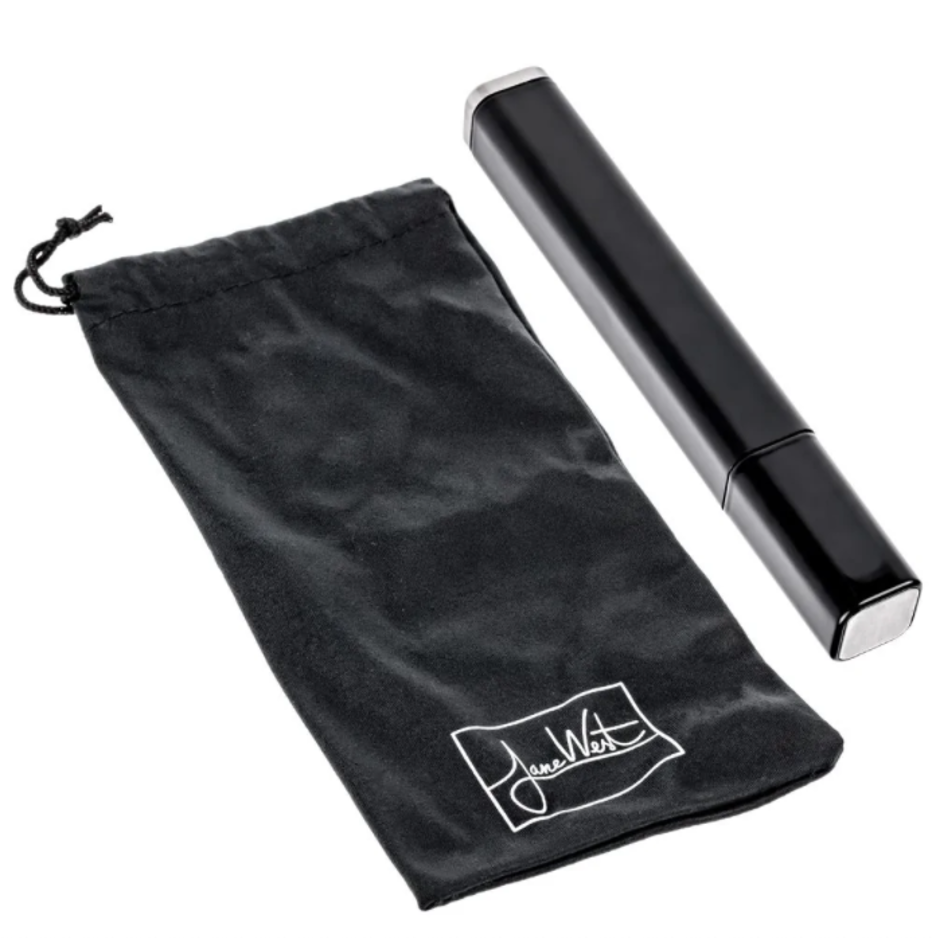 Best Self-Cleaning One-Hitter – Grindhouse Rosewood Push Ejector Taster Bat
Want a simple metal one-hitter that's easy to clean? The Grindhouse Rosewood Push Ejector Taster Bat is that, and more.
This beautiful metal one-hitter has a spring mechanism that allows you to simply push the pipe to eject the ash after each use. Covered in rosewood, this 3 inch (7.6cm) metal one-hitter is easy to pack, easy to clean, and won't break after a fall.
Plus, it's compatible with all Grindhouse dugouts if you want to carry your stash along.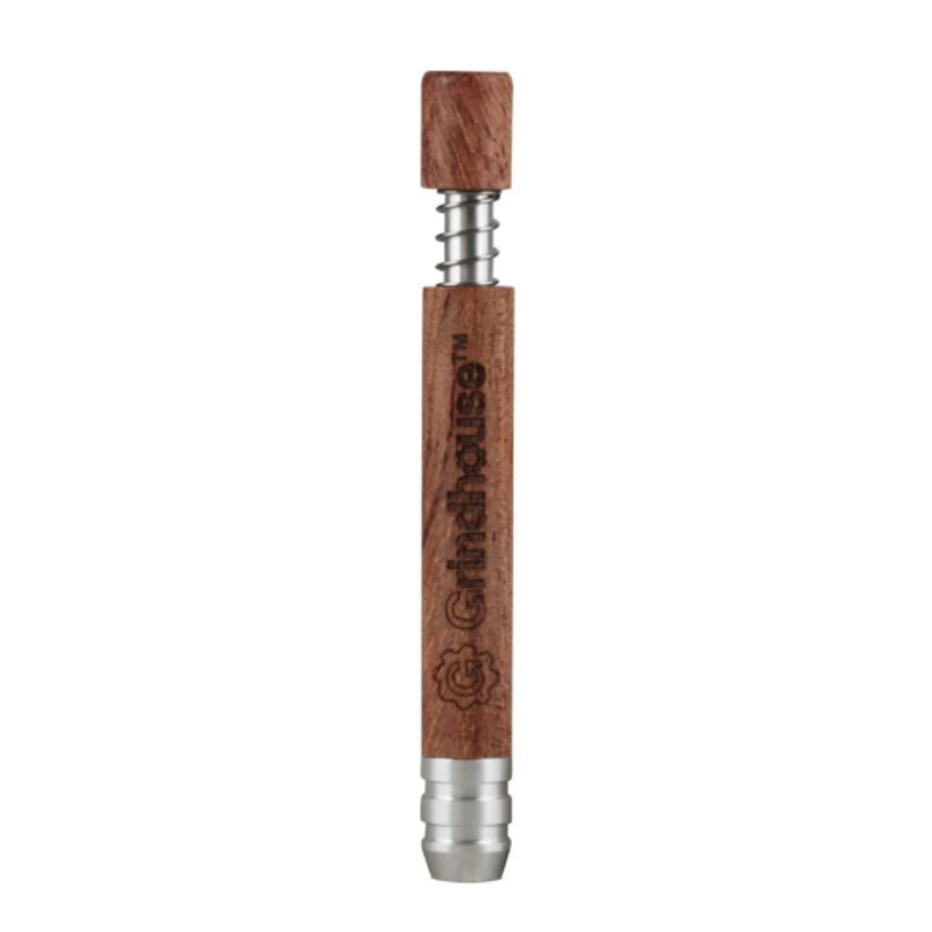 Best One-Hitter for Prepping and Planning – Jane West Pre-Pack Glass One-Hitter Chillum
We know this is the second time we feature a Jane West product, but it's only because their products are really well-made. And, to prove it, check out her Pre-Pack One-Hitters.
Made from thin and high-quality pharmaceutical-grade glass, these one-hitters are made to hold about 0.35 grams and to divide your pre-packed one-hitters into day and night herbs.
At 3.5 inches (9 cm) long, these small one-hitters are perfect for any prepper smoker that likes to keep everything planned out.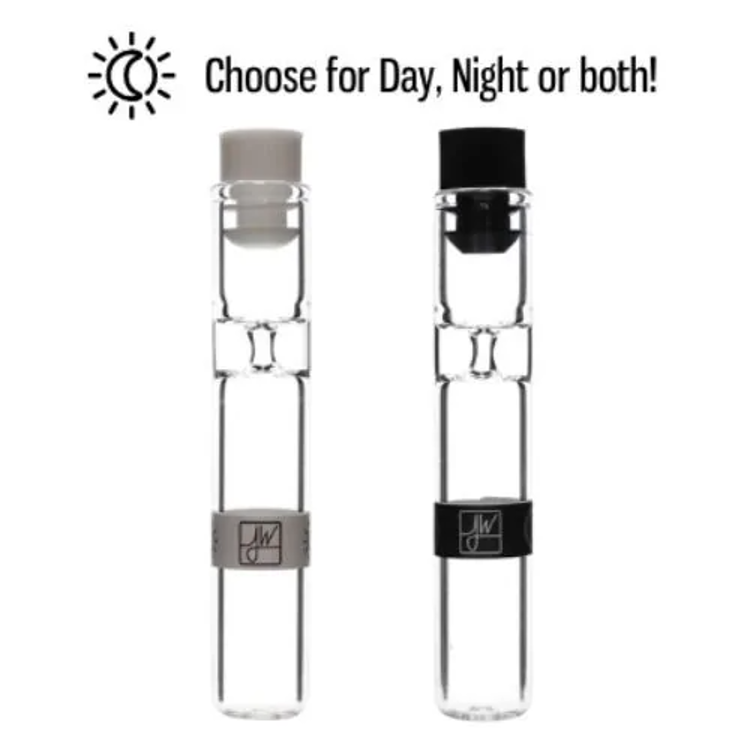 Best Metal-Looking One-Hitter – Pyptek Prometheus Nano
Low-quality metal pipes and one-hitters may release toxic fumes if you overheat them, which is why for our metal option, we went with the Pyptek Prometheus Nano.
The Prometheus has an aerospace-grade 6061 aluminum shell with a borosilicate glass core, making it extremely durable and resilient to heat. This duality between metal and glass gives you the best of both worlds, making it a smooth yet durable pipe. At 4 inches (10.5 cm), this tool-looking metal one-hitter is definitely what they'll be used to smoke in a post-apocalyptic future. It's just that resilient.
Need to clean or replace any parts? This pipe can be fully disassembled to ensure you can keep it in good condition.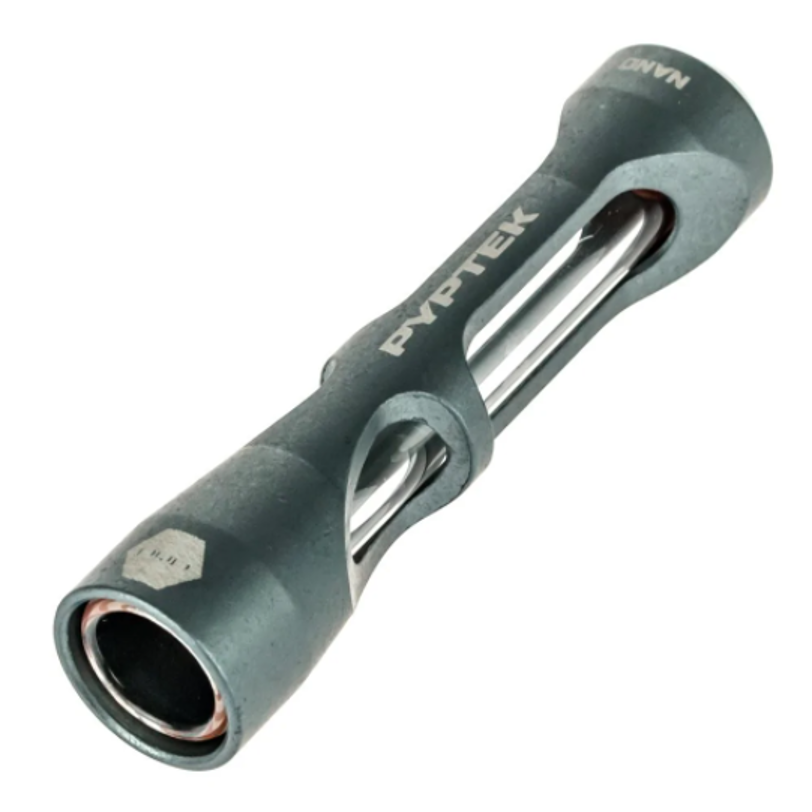 Best One-Hitter to Display – Pulsar UV Striped Cactus One-Hitter Pipe
We don't always like to share our smoking habits. That's why love this beautiful Pulsar UV Striped Cactus one-hitter.
Made from high-quality borosilicate glass, this cute cactus-looking one-hitter is perfect to double as decor when it's not in use. At only 3 inches (7.6 cm) long, this pipe fits just about anywhere.
Plus, the Pulsar logo and a stripe are UV-reactive, which makes this one-hitter stand out even with blacklight. And they're so affordable. Your friends may quickly wonder why you love tiny glass cacti.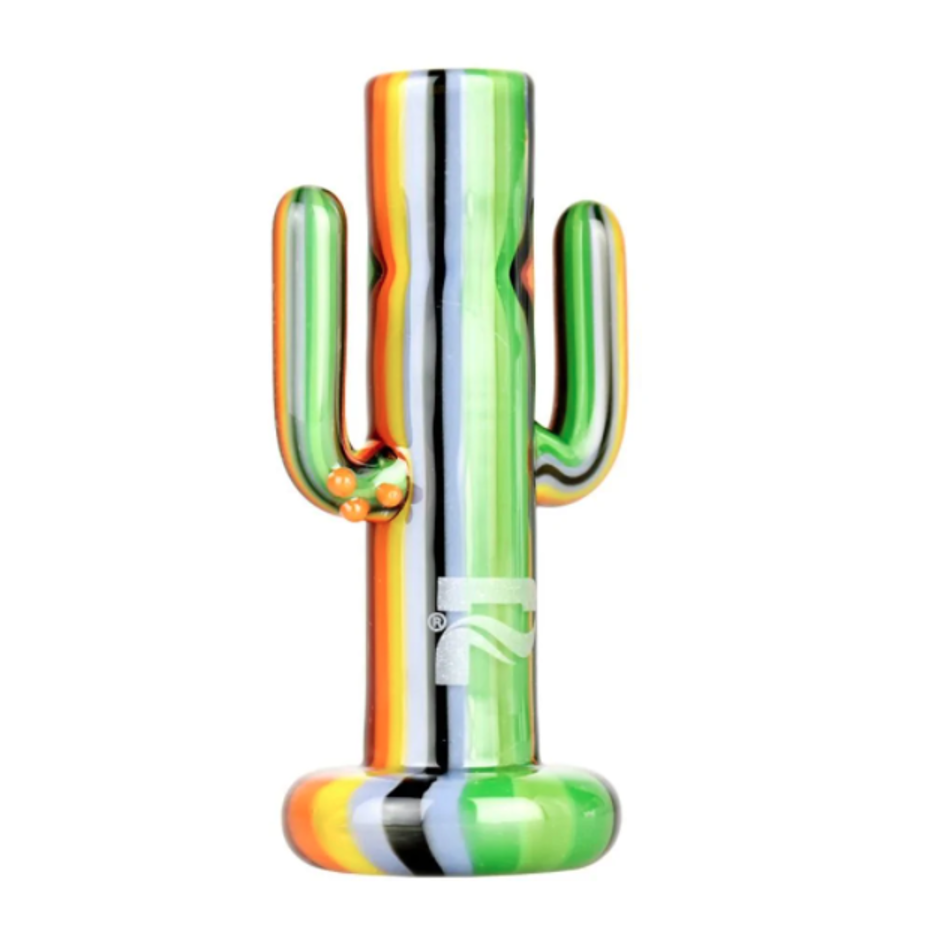 Best Stealth One-Hitter – Peaselburg Glass Uzi
Want a one-hitter you can stealthily wear around your neck? The Uzi one-hitter pipe by Peaselburg is made to look like a small Uzi. No one will likely know that it's made from high-quality borosilicate glass, with a one-hitter pipe built into the barrel.
The beautiful and simple pipe is handblown in Las Vegas, and it's easy to maintain and carry around.
Get it in blue, brown, or yellow.
Best One-Hitter for Parties – Mustache Cig
The Mustasche Cig one Hitter is a beautifully-made glass one-hitter, that gives you a tiny mustache when you're using it.
These wacky-looking one-hitters are perfect to keep around at parties or smoking sessions with your friends, or as a small gift for any glass pipe collector.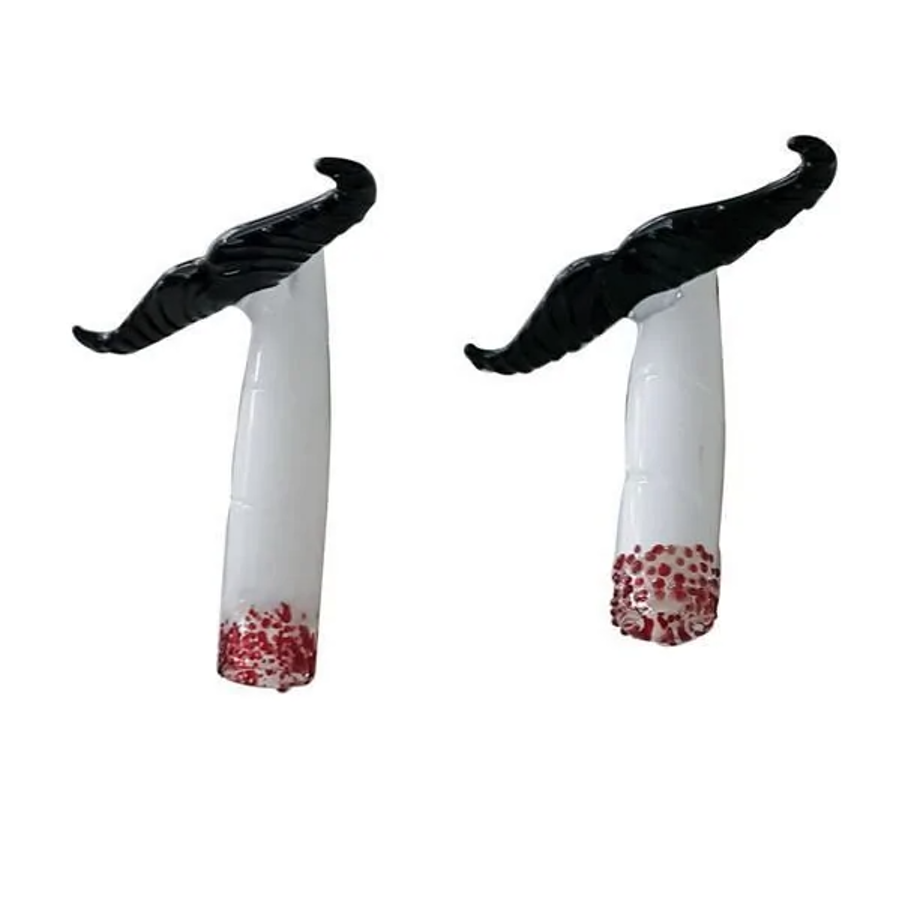 Best One-Hitter with Ash Catcher – Pulsar Ash Catcher One-Hitter
Since you can't really put a screen in a one-hitter, most one-hitters will have you inhaling at least a little bit of ash when using them, especially towards the end.
Not this one.
This One Hitter with Ash Catcher, made by Pulsar, is a high-quality borosilicate glass one pipe with a built-in ash catcher chamber. All you need to do is to load it up and smoke it. The smoke will travel through the small chamber before hitting your mouth, preventing hot ash from reaching you.
At 5 inches (10 cm) they're a bit longer than the average one-hitter, but the ash catcher makes the extra length definitely worth it.
Final thoughts
So, which one-hitter was your favorite? Don't forget to look through our one-hitter catalog to find even more amazing, high-quality one-hitters for all your smoking needs.