Ready to start grinding your herbs?
The best herb grinder will prevent you from grinding your herb too fine and will make you look forward to prepping time.
Regardless of how many parts they have (2, 3, or 4), the multipiece herb grinder works by crushing your herbs into smaller pieces that are better for smoking. Good herb grinders also cut down on all the mess.
But, with so many great herb grinder options out there, how do you start? What's the difference between two and four pieces anyway? Let's find out!
How to choose a good herb grinder
Here's what you need to consider when choosing between herb grinders:
Material
What is the grinder made out of? You can find multiple cheap plastic ones, acrylic herb grinders, and ones made out of multiple metals. Although plastic is far more affordable and portable, metal herb grinders will easily outlast them.
Our advice? Have a cheap herb grinder as a spare, and rely on a high-quality metal grinder for your day-to-day needs.
Looking for another type of grinder? Take a look at our stone herb grinders, our crank grinders, our cool herb grinders, the magnetic herb grinders and, of course, the herb graters!
Size
AKA, "How much herb can I fit in it?". You can find grinders that are as big as your hand and can double as a temporary container, all the way down to tiny 2-piece grinders that fit inside your Altoids tin. Not to mention grater cards that you can fit in your wallet.
The best size for you will depend on portability and usage. If you're a heavy smoker, you'll want to go for the largest grinder, whereas a casual smoker may just need a small and portable one.
Parts
Basic 2-part herb grinders consist of two sets of metal teeth that can be twisted around to crush the herbs inside.
A 3-part herb grinder will have holes under the second part allowing only small, crushed herbs to pass down to a storage compartment.
4-part herb grinders also add a metal mesh to separate your ground herbs from kief.
The 10 best herb grinders
Here are our favorite 10 herb grinders, and why you should buy them.
1. Best Herb Grinder Overall – Cali Crusher OG
The Cali Crusher OG herb grinder has it all, at an affordable price.
With this 4-part metal grinder, you get a very decent grinding action, with a herb container you can keep filling, plus a kief collector. It even comes with a small scraping tool to collect it!
At 2 inches, it"s big enough to handle a decent amount of flower or herbs, while remaining small enough to keep just about anywhere.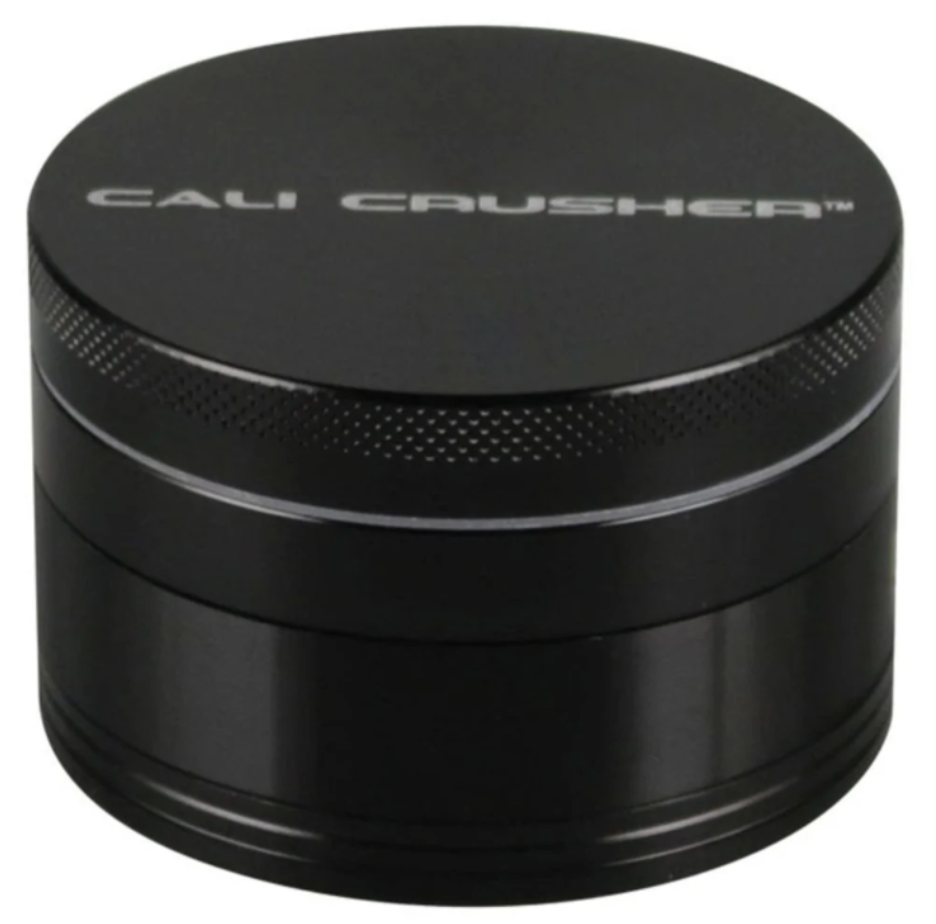 2. Best Small Metal Grinder – Santa Cruz Shredder Small
Don't let the Santa Cruz Shredder's 1.6 inches (4cm) fool you! This portable grinder is extremely effective at grinding anything quickly and without much effort.
Developed by the Santa Cruz company, this high-quality small grinder should be your go-to whenever looking for a powerful option that you can easily put away with the rest of your stash.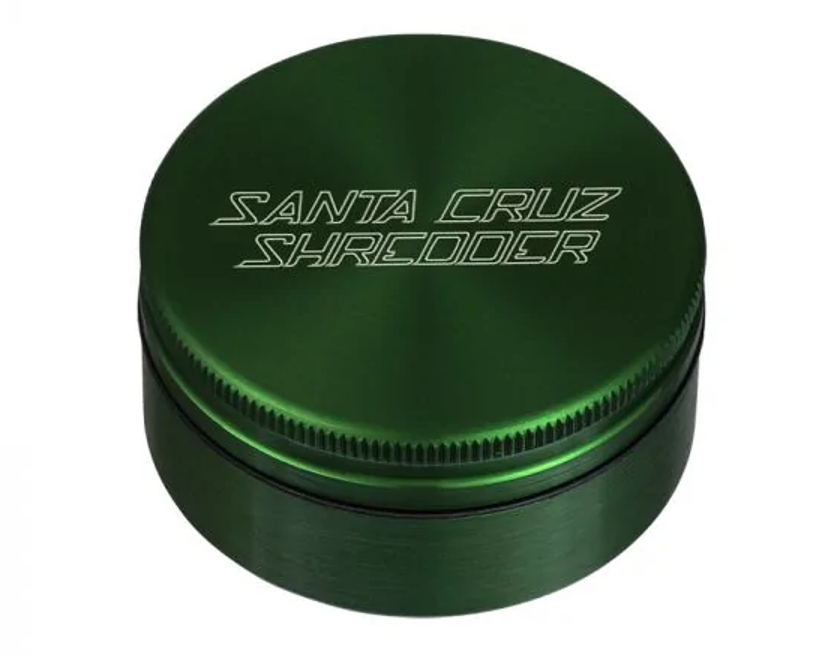 3. Best Premium Metal Grinder – Santa Cruz Shredder Medium
If you're looking for the best of the best, you cannot go wrong with the medium Santa Cruz Shredder.
Made in the USA from medical-grade anodized aluminum, Santa Cruz has taken care of every detail of this shredder. From the innovative tooth design to the grinding action, Santa Cruz truly offers one of those products you'll buy for life.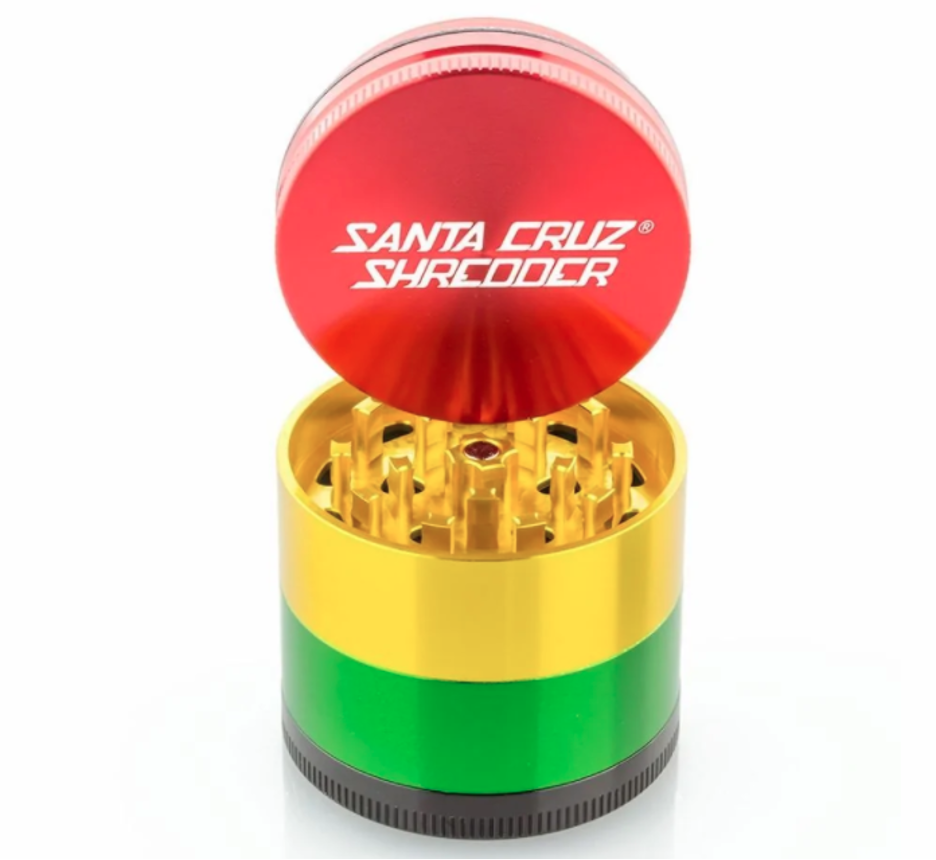 4. Best Budget 4-Part Metal Grinder – "Puff Puff Pass" Herb Grinder
If you're looking for a 4-parter but don't want to spend too much on it, you should try the "Puff Puff Pass" herb grinder by Famous Brandz.
Despite being super affordable, you still get all the benefits of a 4-part herb grinder. All parts come off and work with each other perfectly, and collecting the pollen is made easy with the included scrape tool.
A great budget option for anyone looking for a good herb grinder.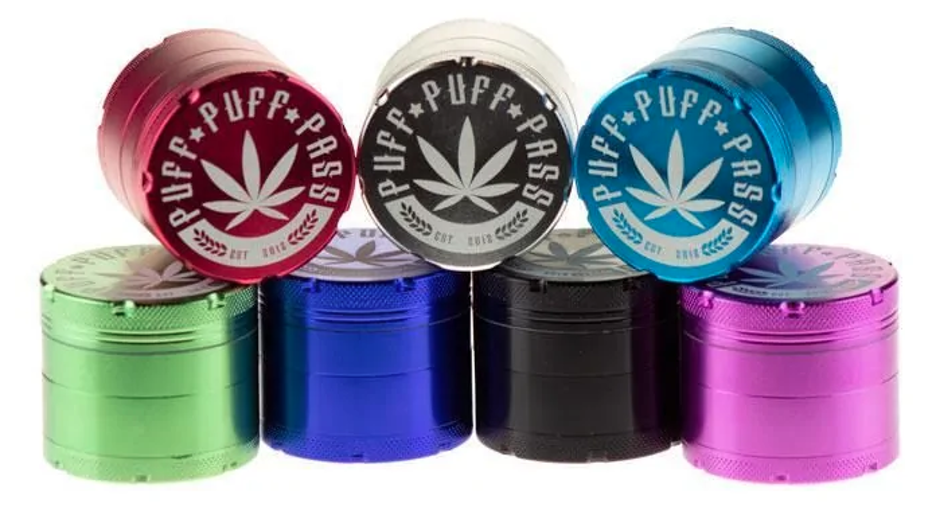 5. Best Pocket Herb Grinder – Rasta Lion Steel Herb Grater
We're still amazed at how few people know these amazing tools, especially when we whip them out to save the day!
You can easily keep this medical-grade steel herb grater in your wallet because it's literally the shape and size of a credit card.
Sharp, long-lasting, and super portable, this grater is a great backup for those times when you didn't know you'd be needing a herb grinder.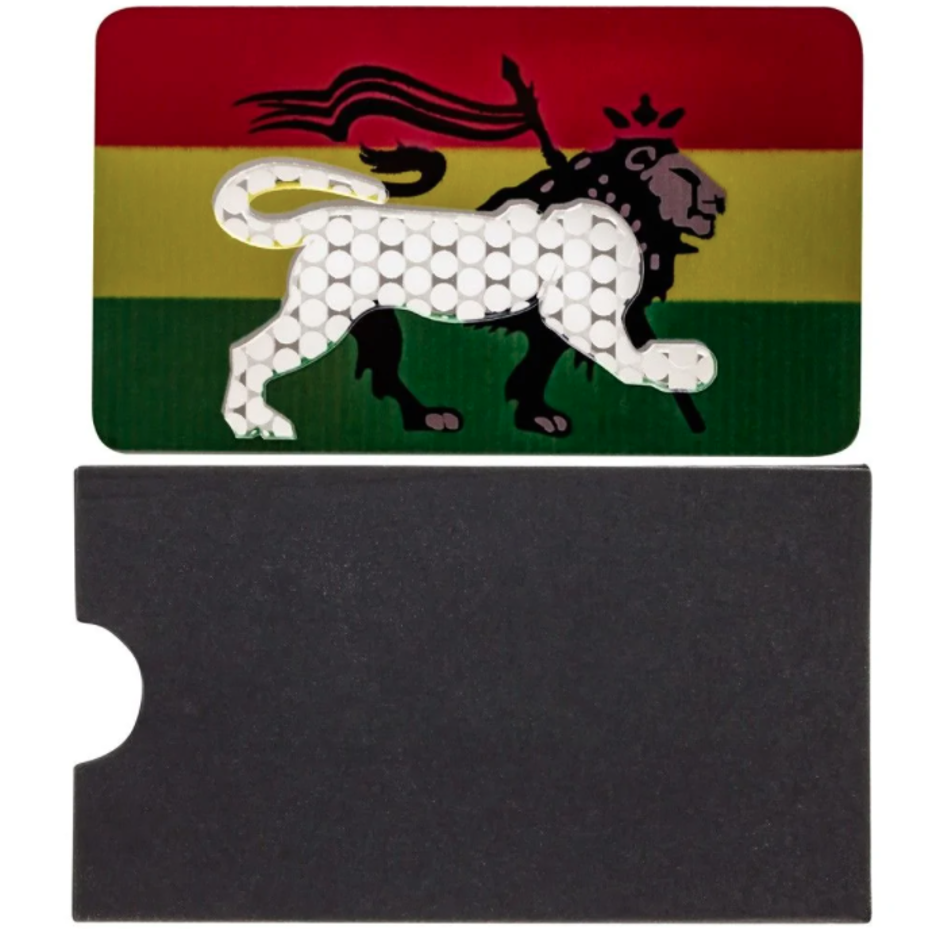 6. Best for Easy Grinding – Sharpstone 2.0 4-Part Crank Top Grinder
If you want to grind as fast and effectively as possible, you can't go wrong with a crank top grinder like the Sharpstone 2.0 4-part Crank Top Grinder.
Just put your herbs on the shredding chamber and crank away while keeping an eye on them through its transparent top. They'll quickly fall into the storing chamber, shaking the pollen away into the bottom layer.
Although big and bulky, this is a great gift for anyone with limited mobility or smokers who just want an easy way to grind their herbs.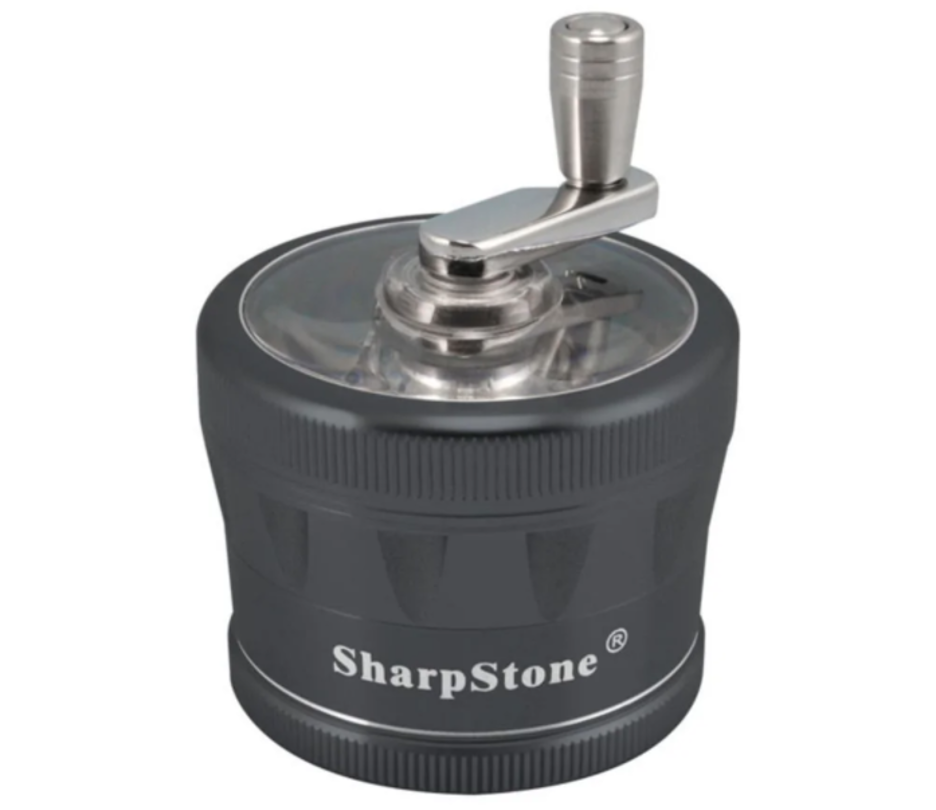 7. Best for Your Stash – Medtainer Storage Container with Grinder
You shouldn't keep your ground herbs in your grinder for too long, unless your grinder comes with an air-tight storage container like one.
Made out of medical-grade plastic, the Medtainer Storage Container comes with a built-in grinder to process your herbs before storing them in its water-tight container.
This is a great option for casual users looking for a simple and affordable container and grinder solution.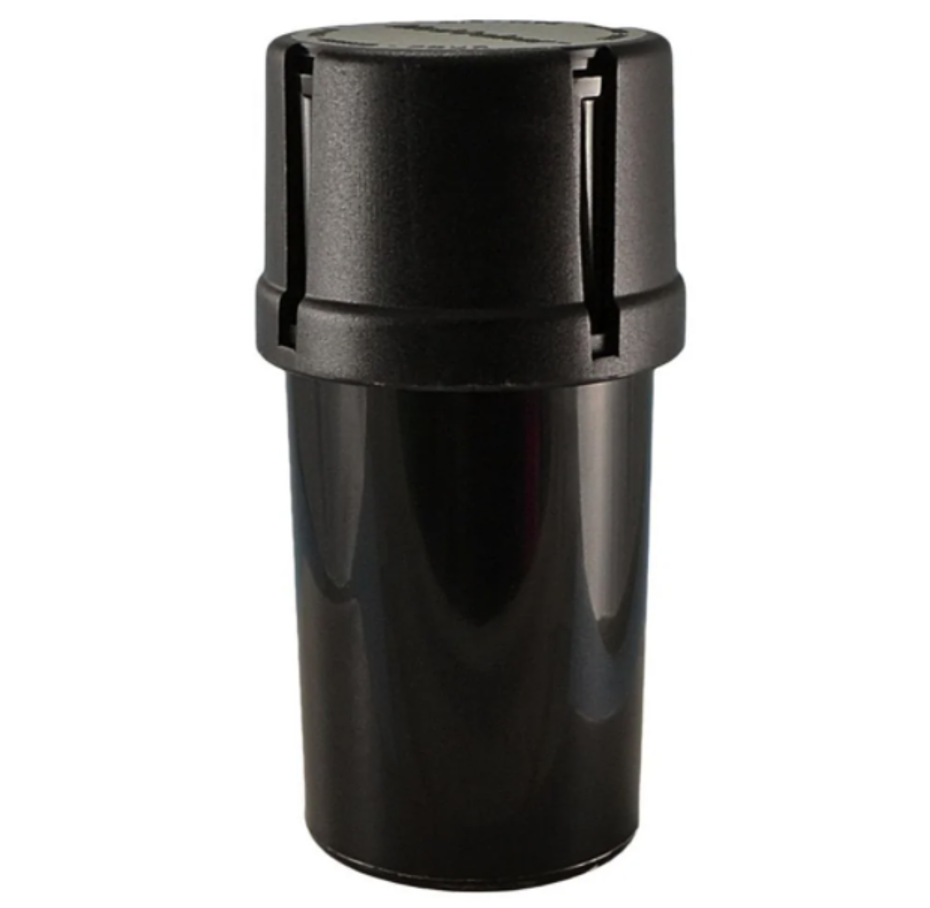 8. Best for Multiple Grind Options – GR8TR 4-Part Herb Grinder
Not everyone likes their herbs ground the exact same way. However, you can try and please them all with this customizable GR8TR Mini Herb Grinder.
Made from CNC aluminum, the GR8TR is compatible with interchangeable parts for you to alter to your liking.
Please note this one doesn't include an easy change screen or screen chamber!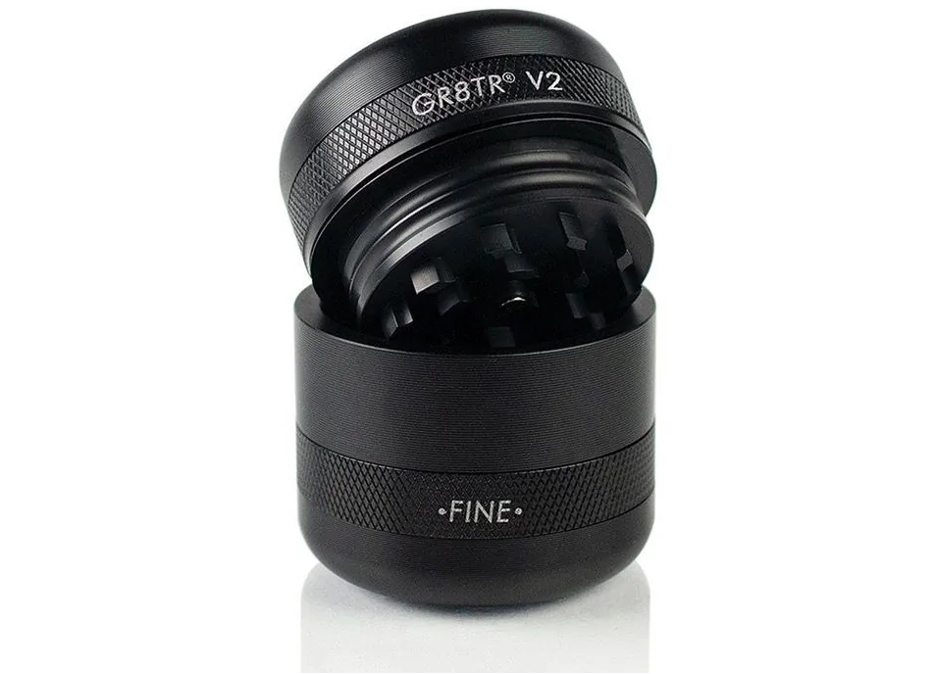 9. Best Grinder For Large Herb Amounts – Large Electric Grinder
Are you looking to grind the largest amount of herbs while spending minimum effort?
This large electric grinder is extremely easy to use. Just add your herbs, turn it on, and grind your herbs in no time.
At such an affordable price, we're sure if you don't get it now, you'll definitely be thinking about grinding with it next time you're grinding by hand.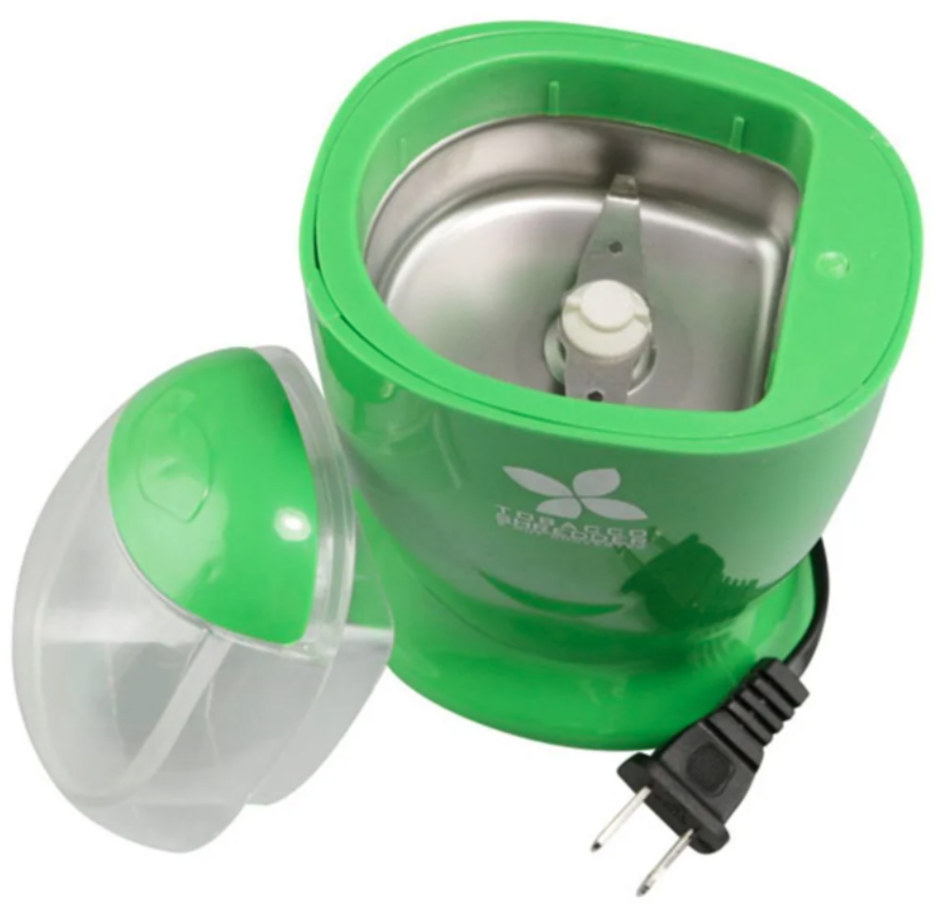 10. Best Backup Grinder – Grasscity 3-Part Herb Grinder
We all need a backup herb grinder for those times when ours doesn't work or when we just can't find all pieces. The Grasscity Magnetic 3-Part Herb Grinder is extremely durable and easy to use, with magnetic closures and sharp teeth to crush your herbs.
With its low price, it's probably the impulse buy you'll end up using and enjoying the most.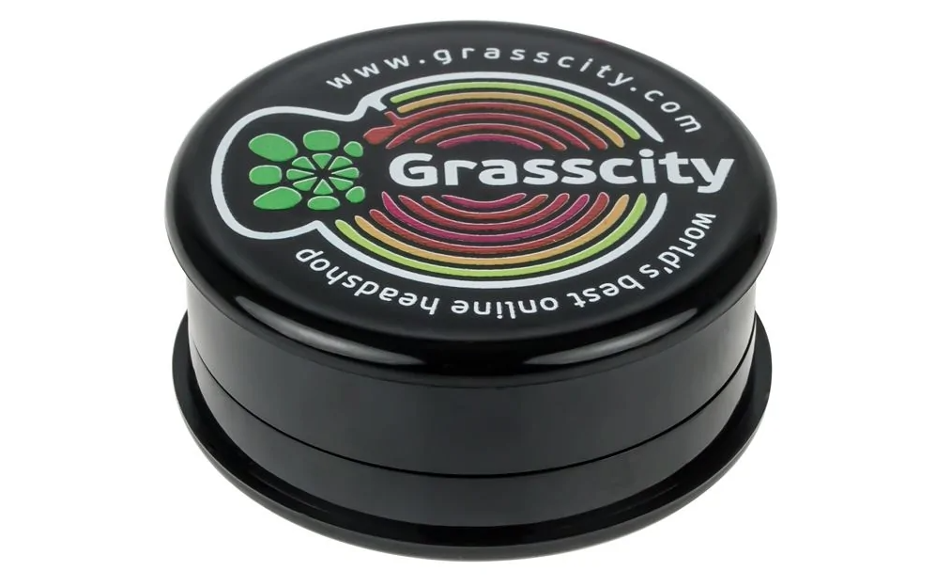 Final Thoughts
As we've seen, there are multiple kinds of herb grinders. Which one was your favorite? You can find even more herb grinders in our catalog, along with the best  cleaners to properly maintain your grinder.
Happy grinding!